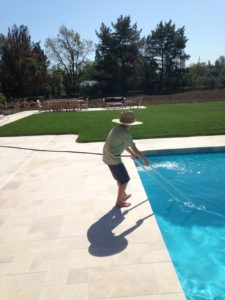 When hiring a pool cleaning service, you want a company that is trustworthy as well as professional. Most of all you want to look for quality work, because after all, a pool is an investment. Get the most use out of your investment by hiring Nelson Pool and Spa.
We pay special attention when we clean pools because we have been around long enough to know that no two pools are alike. We give your pool special attention and custom care so that you can enjoy it to the fullest.
Our pool cleaning service includes:
Skimming – We start with simple skimming. Skimming may be a simple task but it is the first step in ensuring a beautiful looking pool. We get all of the particle matter off the surface of your pool's water.
Vacuuming – Our powerful aqua vacuums clean the hard to reach bottom surface of your pool. We use only the best vacuum brands so you can be sure that the bottom of your pool will be spotless by the time we are done with it.
Chemical Care – The chemical balance of any pool is a very precarious relationship. Only experienced professionals should be handling the chemicals that go into your pool. Luckily, at Nelson Pool and Spa, we only hire experts with years of experience with pool treatment chemicals. Safety is paramount here, so you can rely on us to keep your pool's water safe for you and your family.
Baskets – We empty all of your dirt filter baskets for clean and efficient use every time. It's important to empty these baskets regularly to prevent clogging and wasteful operation.
In addition to pool cleaning service, we also perform regular maintenance on your pool's pump and filtration systems. No matter how simple or complex your pool setup may be, we guarantee that we will be able to perform all maintenance and repair jobs to your full satisfaction. Give us a call today and see why we are the best at what we do!