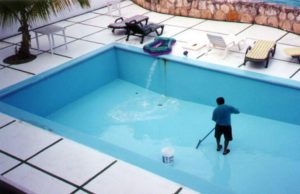 Nelson Pool and Spa has the best price for your routine pool and spa cleaning. We never like to see a sub par pool and leave no stone unturned, or in this case pool cleaned. We can take care of all your pool cleaning needs. Give us a call if your pool needs a little extra care this year and you want to use your pool or spa to its full potential.
In order to keep your pool clean there are a few steps that all pool owner must adhere to in order to have a pleasant swimming environment. Residential and Commercial pools alike the same steps need to take place in order to ensure your pool is up to standards.
The first order of business is to have all of the correct pool equipment. Some of the basic equipment needed by all pool owners are;
Pool net – in order to get contaminates such as leaves and other debris that are floating on the surface out of your pool
Brush– to release dirt and grime along the walls and bottom of your pool
Vacuum– a pool vacuum is used to suck up all of the remaining contaminates that are on the bottom of your pool.
Using these three core pieces of pool equipment is the base of any pool cleaning.
The second and equally as important part of a pool cleaning is the use of chemicals such as chlorine and acid to treat your pools water. This is often the hardest part of cleaning a pool because you cannot see what it is you are exactly cleaning. The first step of this process is to have a water chemical tester. The ideal pH of a pool should be between 7.2 and 7.6. This level is very important to kill any bacteria in your pool such as the pee from your friends' kid that you didn't really want to invite over in the first place.
Lastly the most infrequent piece but often looked over is cleaning your pool filter. Many people overlook this step, as it is something that is unseen. To clean your pool filter you must remove them and pressure wash the dirt off of the filter screens. After washing your filters inspect each one for any rips or tears in the material. After each filter is cleaned and inspected replace them back into the cleaning system and run your pool equipment for at least 3 hours to clear out the system.
Hopefully these pool cleaning steps have you on your way to a cleaner pool. Our pool-cleaning technicians are experience with all sorts of pool equipment such as Polaris, Pentair, and Haywood systems.